Tough Watch brands
Sometimes, all you need, is something you can set and forget. You want something that will go anywhere and do anything, a watch that can take a serious beating and keep on ticking. A classic sports men's watch should be able to do all of the above, plus more.
The best sports watches go with you to wherever you go, and are tough and rugged. There is no typical look that defines a tough sports watch; it all depends on how well engineered it is from the get go. Here, we list some of our favourite tough sports watches, which we think are virtually bulletproof.
#1 Casio G-Shock
This should come as no surprise to watch lovers, as one of the quintessential "tough" watches. Originally designed by Casio engineer Kikuo Ibe, the original G-Shock was designed around the "Triple Ten" concept: ten year battery life, water resistant to 10 bar, and can survive a fall from 10m. Reportedly, around 200 prototype G-Shock watches were tested by dropping them out of a third storey window.
Today, there are a myriad of G-Shocks on the market, with functions ranging from multiple time zones, chronographs, and GPS-based time synchronization, meaning that there's a high probability that Casio makes the right G-Shock for you.
#2 Ball Engineer Hydrocarbon Spacemaster Orbital II
Inspired by brand ambassador Brian Binnie's exploits as the pilot of SpaceShipOne, the Spacemaster Orbital II is designed with Binnie's needs in mind, for a watch with serious durability in mind.
The watch features a crown guard, as Ball found that many watches are damaged through shocks to the crown, and the movement has special lubricant that enables it to endure temperatures as cold as -40 degrees Celsius.
However, this watch's party piece can be found on the back of the watch, with Ball's Amortiser function. Designed as a shock-resisting feature, the Amortiser consists of a protective ring around the movement, to protect it from lateral impacts.
The Amortiser also gives the user the option to disable the use of the automatic winding rotor, thereby reducing rotation during high-impact activities. Coupled with a titanium case and bracelet, there's not many mechanical watches that can compete on toughness with this brute.
#3 Sinn U1
A brand hailing from Frankfurt, Germany, Sinn are known in the collector community for their no-nonsense approach to watchmaking. The Sinn U1 is a watch that is every part the divers watch it is designed to be. With its highly legible dial and unique hour markers and hands, it's face is distinctive of it's Teutonic origins.
What sets this watch apart from the rest however, is its case and bracelet material. The Sinn U1 is crafted from German Submarine steel, which is remarkably resistant to seawater, and also highly non-magnetic.
Source: www.dmarge.com
RELATED VIDEO
Watch brand new Movies and TV shows on Iphone and IPod ...
Casio Tough solar runners watch W-S220 unboxing and opinion
Olympus Stylus Tough 3005 - Brand New 720p Camera WaterProof
Share this Post
Related posts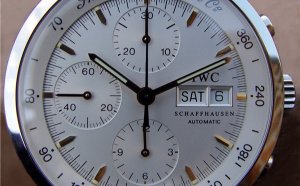 OCTOBER 20, 2021
Recently, we spoke with the Rolex boutique in Beverly Hills, and they confirmed that Rolex has about 2, SKUs even though…
Read More
OCTOBER 20, 2021
Posted by: Adayinparis from Pasadena, CA on This case was inexpensive and neutral in color. It protects the face sides fine…
Read More