Seiko Time Corp
1-2-1, Shibaura
Minato-ku
Tokyo 105-8459
Japan
Telephone: (03) 6401-2111
Fax: (03) 6401-2216
Public Company
Incorporated: 1881 as K. Hattori & Co., Ltd.
Employees: 9, 245
Sales: $1.98 billion (2004)
Stock Exchanges: Tokyo
Ticker Symbol: 8050
NAIC: 334518 Watch, Clock, and Part Manufacturing; 42194 Jewelry, Watch, Precious Stone, and Precious Metal Wholesalers
Seiko Corporation acts as a holding company for subsidiaries that develop and manufacture watches, clocks, camera components, electronic devices, eyeglasses, jewelry, and sports products. Some of its popular watch brands include Sportura, Rivoli, Vivace, and Arctura. Watches and clocks secured 70 percent of company revenues in 2005, while optical, sports, and other products were responsible for the remainder of sales. Over 60 percent of sales stem from operations in Japan. Seiko products are also found in the Americas, Asia, and Europe.
Late 19th and Early 20th Centuries
In 1881, in Uneme-cho, Kyobashi, part of Tokyo's Ginza district, Kintaro Hattori, a jeweler, established K. Hattori & Co., Ltd. Although 21 years old, Hattori was already an eight-year veteran of the business world. According to the company type-script, "A Brief History of Hattori Seiko Co. Ltd., " it was enough experience to lead him to observe, "On a rainy day, every retail shop will have less customers. However, jewelers can make good use of these slack days by repairing timepieces and thus not waste precious time."
Near the end of the 19th century, increasing railroad traffic produced growing demand for accurate timepieces. In 1884 the adoption of the worldwide 24-hour time zone system, with its reference meridian at Greenwich near London, produced a standardization of time that further increased that demand. In 1892 Hattori established the Seikosha clock manufacturing plant in Ishiwara-cho, Tokyo. Initially employing ten workers, the firm made primarily wall clocks, which, at that time, was the most popular type of timepiece. In October 1893 the plant was moved to its present site in Taihei-cho, Tokyo. Two years later, the main office was moved to new facilities at Ginza that included a clock tower that stood more than 50 feet high. As tall buildings were a rare sight in Tokyo at the time, the tower garnered much attention.
The firm added pocket watches to its product line in 1895. Alarm clocks were added in 1899 and table clocks in 1902. As the market expanded, the company began exporting clocks to China, and by 1912 China received 70 percent of Japan's total export of timepieces. In 1913, Hattori opened its first overseas branch, in Shanghai.
To satisfy in part the growing demand for pocket watches Hattori introduced its first line of wristwatches, which were sold under the Laurel brand name. The wristwatch gained in popularity worldwide and, by the end of the World War I, had replaced the pocket watch as the standard portable timepiece.
In 1917, K. Hattori & Co., Ltd. became a public company. In September 1923, an earthquake hit Tokyo, destroying the Seikosha plant. Hattori tried to compensate hundreds of customers, who had lost a total of 1, 500 timepieces left for repair, with replacement clocks and watches. In 1924, annual production was less than 10 percent of the 1922 output. In 1924, also, the Seikosha plant introduced the first Seiko brand wristwatch.
In 1927, Kintaro Hattori, at age 69, was honored as the imperial nominee to the House of Peers. Also at this time, Hattori launched its first ladies' wristwatch, the smallest ever produced in Japan.
Using the microengineering expertise acquired in its clock and watch production, the Seikosha plant began producing camera shutters in 1930. Eventually, Hattori became one of the world's largest suppliers of camera products, although its brand names do not appear on the products.
Marketing Other Companies' Products in the 1930s
In 1934, Kintaro Hattori died, and his eldest son, Genzo Hattori, became president. Genzo Hattori chose to satisfy market needs by adopting a unique corporate structure. It allowed private plants to develop products to be marketed by K. Hattori. In 1936 K. Hattori & Co., Ltd. marketed a total of 2.06 million clocks and watches, the highest figure since the opening of the Seikosha plant. Japan's total watch and clock production came to 3.54 million. In 1939 the company started marketing Braille pocket watches.
As Japan entered World War II, K. Hattori's normal marketing activities were hindered, as reflected in the Seiko group's 1945 production figures. Only 6, 260 clocks and 13, 318 watches were produced by K. Hattori's affiliates for marketing by K. Hattori. Production was slowed in part because members of the Seiko group, like many other Japanese companies, were ordered to produce military items, such as time fuses and ammunition.
By 1953, however, K. Hattori & Co., Ltd. had recovered to its prewar sales level. In that year, the company purchased a total of 2.46 million watches and clocks from group plants, representing 54.3 percent of Japan's total production, and exported 101, 000 watches and clocks. By the late 1950s, the firm's watches were gaining international attention, and Hattori had begun marketing watches in the United States and other countries. The company marketed its first self-winding wristwatch in 1955. Utilizing conveyor-belt production technology, by 1959, production of watches reached three million per year.
Source: www.referenceforbusiness.com
RELATED VIDEO
BRAND NEW AUTHENTIC SEIKO SNDC35P1 CHRONOGRAPH STAINLESS ...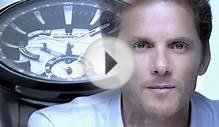 Seiko Watch Brand Overview 2013 - Long Version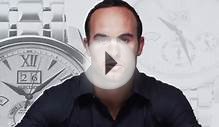 Seiko : Brand Ambassador : Landon Donovan
Share this Post
Related posts
OCTOBER 27, 2021
The late Eric Tabarly w/Marine Chronometer & Sextant determining a ships position "the old way" I have seen on…
Read More
OCTOBER 27, 2021
Bernard Gitton s Time-Flow clock Luna04 / CC-BY-SA-3.0, via Wikimedia Commons Purpose To build a feedback-controlled system…
Read More