Water powered alarm clock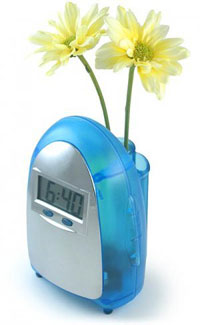 Don't you hate it when false information gets propagated all over the internet?
Lately my ire has been stirred up over a product called the Water Powered Clock.
As its name would imply, the Water Powered Clock should be a clock that runs on water (or just about any liquid, apparently) instead of batteries.
In just about every advertisement for one of these devices, and in just about every blog article written about the product, we're lead to believe that water is indeed the power source for this clock.
ThinkGeek.com states that:
The internal converter simply extracts electrons from water (or other liquid) molecules and provides a steady stream of electrical current acting as a fuel cell to generate power to the clock.
But is this really the case?
You're going to tell me that one of these small, plastic devices that you can buy for a couple of bucks can really do all that — turning water into electricity just like magic?
Of course, everyone wants to give the Water Powered Clock big plus points for being environmentally friendly, but is this a good enough excuse for leaving your brain cells at home? (And if you truly want to be environmentally-friendly, what's wrong with an old-fashioned wind-up alarm clock?)
A little deeper research points out that these Water Powered Clocks run on electricity produced by an internal piece of zinc which dissolves inside the clock and acts as a kind of battery. Yes, battery.
The water (or other liquid) you pour into the clock merely acts as a conductor for the current, which has been created by the dissolving piece of Zinc .
Don't believe us? Check out the information here on and on .
Now check out the hype for the Water Powered Clock in a video advertisement:
Listen closely for the references to "fuel cells" in this next video, referring to the water tanks.
The "fuel cells" are, in reality, simply containers for the water. The water or other fluid acts as a conductor for electricity created by the internal zinc battery:
Everything I've read so far about these 'Eco-Friendly' clocks is that the piece of zinc which actually powers them will completely dissolve away after a few years, leaving you with a dead clock. Kind of like when your batteries run out of juice, isn't it?
So, if the manufacturer cannot send you the necessary replacement parts or fix the clock for you, you'll have to simply…throw it away.
Tell me, how environmentally friendly is a garbage truck full of plastic?
Navigation to Our Most Popular Clocks:
Source: blog.onlineclock.net
RELATED VIDEO
Water-Powered Digital Alarm Clock: Runs solely on tap water
Bedol Water Powered Alarm Clocks: They run solely on tap water
Bedol Wink Style Water Powered Alarm Clock YouTube
Share this Post
Related posts
OCTOBER 20, 2021
It is really, really hard to find a digital alarm sound that is pleasant to wake up to. Even with the multitude of options…
Read More
OCTOBER 20, 2021
Da Vinci's Alarm Clock The fact that Leonardo never put restrictions on his inventiveness is marked by the wide range of…
Read More