What is a Quartz Clock?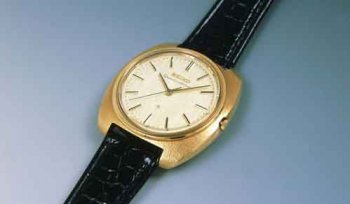 The first prototype of an actual wrist watch from Seiko was made by the CEH research Lab in Switzerland. From 1965 through 1967, a pioneering developmental project was done on a miniature quartz oscillator, a thermo-compensation module and a dedicated, integrated circuit. The BETA 1 prototype was then produced and set new timekeeping records.
The very first quartz wrist watch to enter production was Seiko 35 SQ Astron, which hit the market on December 25, 1969. A particularly interesting flaw to Seiko's approach within this new development was that they decided not to patent the entire movement of the quartz wrist watch. One would think with all the secrecy of the development of the quartz watch that Seiko would patent the entire project. That would probably never happen these days. Seiko's failure to patent this wrist watch allowed other manufacturers to make a quartz wrist watch. This played a paramount role in the quick development of the quartz watch. In less than a decade, the quartz watch was king among all other watches. This ended a 100 year reign for the mechanical watch. Now, even the cheapest watches have quartz movements.
During the 1970s, the mechanical watch industry in Switzerland was consolidated. A mass production of quartz wrist watches was led by the Swatch group of companies, a Swiss company with control of the production of Swiss watches and related products. Their subsidiaries manufactured the watch batteries, oscillators, and integrated circuits used in the watch. The launch of the new Swatch watch in 1983 featured bold new styling, design and marketing. Not surprisingly, today the Swatch Group is the world's largest watch company.
Seiko did go on to develop another quartz watch project. Their new project was a combination quartz and mechanical timepiece. Seiko's efforts to combine the quartz and the mechanical movements finally bore fruit after nearly 20 years of research. This gave birth to the Seiko spring drive. It was first introduced in 1999 and then sold worldwide in 2005. The spring drive manages to keep excellent time within quartz standards without having to use a battery. This watch uses a traditional mechanical gear train which is powered by a spring. It doesn't need a balanced wheel.
Seiko now has a kinetic powered quartz watch that uses the arm movement of the wearer to turn a rotating weight. This causes a very small generator to supply power to recharge the battery. The idea is similar to that of self-winding spring watches, except that the power is a generated power instead of a mechanical spring tension.
Benefits of the Quartz Watch
A quartz watch is able to maintain water-resistance better than a mechanical watch because there is a less of a need to have the crown unscrewed for time setting. Also, resistance to wear is better in a quartz watch because the gear trains of mechanical watches are under constant pressure from the mainspring. The wear is due to friction. Quartz watches are not under such pressure. For that reason, quartz watches almost never have to be serviced to maintain proper lubrication.
Quartz watches are also very convenient. You could literally put them in the drawer for months, and then take them out and wear them again and they will show the correct time. This is not the case with a mechanical watch.
Ways to Identify a Quartz Watch
All digital watches are quartz watches. There many ways to tell a quartz watch from a mechanical watch. A lot of mechanical watches will have an automatic or self winding movement. These are labeled as automatic on the face. Quartz watches are seldom labeled as automatic. Many of the mechanical watches have a see through dials or case fronts to show off the movements of the watch. Quartz watches almost never have a see through dial.
If the watch has a second hand, you can tell the quartz from the mechanical watch by looking at the hand and how it moves. The second hand on a quartz wristwatch will move in a jerky motion. It jumps forward in one-second intervals. The second hand of a mechanical watch moves in an uninterrupted, sweeping motion.
Today, quartz crystals used inside of watches come in many shapes and frequencies. Among the most common are tiny encapsulated tuning forks that vibrate. Quartz clocks and watches continue to dominate the market because they are so accurate and reliable. Also, their cost is quite low when mass produced.The bulk of low to medium priced watches on the market today are quartz watches. Expensive mechanical timepieces are valued for workmanship and aesthetics rather than for accuracy. These watches usually have strictly mechanical movements. They are powered by springs. These mechanical movements are not as accurate as quartz movements. Quartz watches have many more functions than mechanical watches. Some of the additional features of quartz watches are timers, chronographs and alarm functions. Some really modern designs use GPS technology or heart monitoring capabilities.
Source: blog.onlineclock.net
RELATED VIDEO
Quartz clock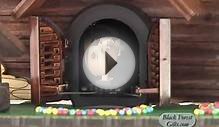 Quartz Cuckoo Clock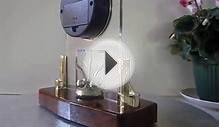 Quartz Anniversary Clock
Share this Post
Related posts
OCTOBER 27, 2020
Ref. 16519, White Gold Cosmograph Daytona Rolex, "Oyster Perpetual, Superlative Chronometer, Officially Certified, Cosmograph…
Read More
OCTOBER 27, 2020
If you've ever been to Rome, or seen pictures of this magnificent city, then you'll have seen one of the many obelisks that…
Read More